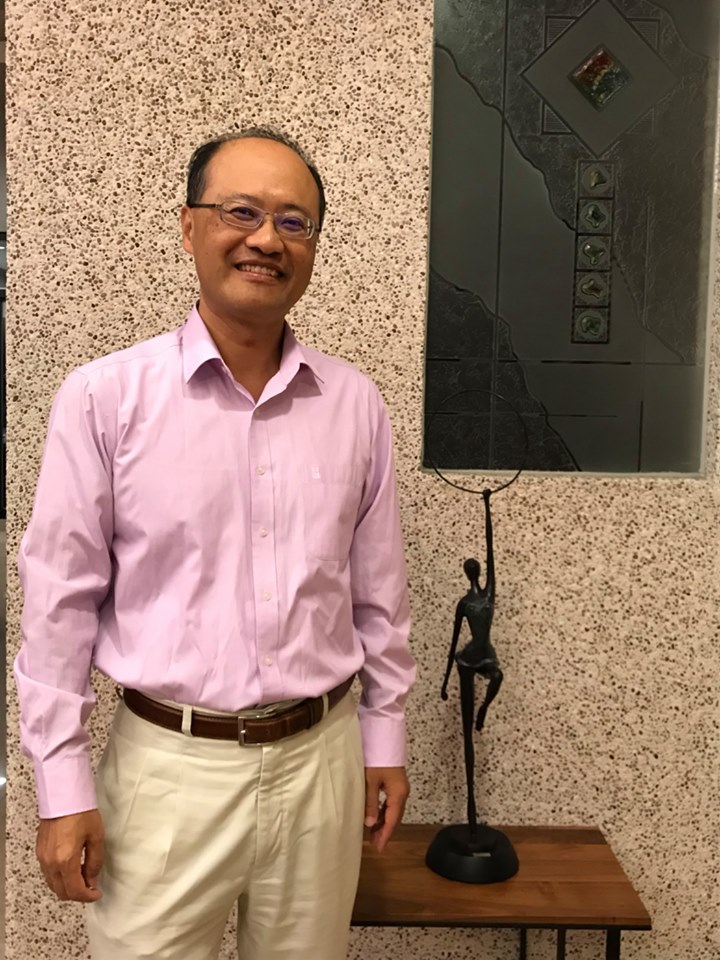 Distinguished Professor and Dean of College of Social Science
Fu-Zen Shaw
LAB :Neuro-Electrophysiology Lab
LAB
TEL
:
(06) 2004555
Email:
fzshaw@mail.ncku.edu.tw
Journal Papers
Chen S.-D., Wu H.-Y., Yang D.-I., Lee S.-Y., Shaw F.-Z., Lin T.-K., Liou C.-W., Chung Y.-C.* (2006) Effects of rosiglitazone on global ischemia-induced hippocampal injury and expression of mitochondrial uncoupling protein 2. Biochemical and Biophysical Research Communications, 351: 198-203. (SCI)
Chen J.-C., Shaw F.-Z.* (2006) Recent progress in physical therapy of the upper-limb rehabilitation after stroke: emphasis on thermal stimulation. Journal of Cardiovascular Nursing, 21: 469-473. (SCI)
Shaw F.-Z.* (2006) Development of a multichannel recording system for bioelectric activities in freely moving rats and its application to sleep and absence epilepsy. Tzu Chi Medical Journal, 18: 81-90.
Shaw F.-Z.*, Lee S.-Y., Chiu T. H. (2006) Modulation of somatosensory evoked potential during wake-sleep states and spike-wave discharge in the rat. Sleep, 29: 285-293. (SCI)
Chen J.-C., Liang C.-C., Shaw F.-Z.* (2005) Facilitation of sensory and motor recovery by thermal intervention for the hemiplegic upper limb in acute stroke patients. A single-blind randomized clinical trial. Stroke, 36: 2665-2669. (SCI)Young C.-P.*, Liang S.-F., Chang D.-W., Liao Y.-C., Shaw F.-Z., Hsieh C.-H. (2011) A portable wireless on-line closed-loop seizure controller in freely moving rats. IEEE Transactions on Instrumentation & Measurement, 60: 513-521. (SCI/EI)
Young C.-P.*, Liang S.-F., Chang D.-W., Liao Y.-C., Shaw F.-Z., Hsieh C.-H. (2011) A portable wireless on-line closed-loop seizure controller in freely moving rats. IEEE Transactions on Instrumentation & Measurement, 60: 513-521. (SCI/EI)
​

Chen S.-D., Yeh K.-H., Huang Y.-H., Shaw F.-Z.* (2011) Effects of intracranial administration of ethosuximide in rats with spontaneous or pentylenetetrazol-induced spike-wave discharges. Epilepsia, 52(7): 1311-1318. (SCI)
Liang S.-F.*, Liao Y.-C., Shaw F.-Z., Chang D.-W., Young C.-P., Chiueh H. (2011) Closed-loop seizure control on epileptic rat models. Journal of Neural Engineering, 8(4): 045001. (SCI)
Chen S.-D., Yang D.-I., Lin T.-K., Shaw F.-Z., Liou C.-W., Chuang Y.-C.* (2011) Roles of oxidative stress, apoptosis, PGC-1a and mitochondrial biogenesis in cerebral ischemia. International Journal of Molecular Sciences, 12(10): 7199-7215. (SCI)
Hou K.-C., Chang C.-W., Chiou J.-C., Huang Y.-H., Shaw F.-Z. (2011) Wireless and batteryless biomedical microsystem for neural recording and epilepsy suppression based on brain focal cooling. IET Nanobiotechnology, 5(4): 143-147. (SCI)
Shaw F.-Z.*, Yang T.-F., Huang C.-C., Yeh K.-H., Chang T.-C., Leu F.-J. (2011) Multichannel planar microelectrode array for somatic mapping in rats. Biomedical Engineering-Applications Basis Communications, 23(6): 501-508. (SCI/EI)
Chang D.-W.*, Liang S.-F., Young C.-P., Shaw F.-Z.*, Liu Y.-D., Liu Y.-C., Chen J.-J., Chen C.-Y., Cheng K.-Y. (2011) A versatile wireless portable monitoring system for brain-behavior approaches. IEEE Journal on Emerging and Selected Topics in Circuits and Systems, 1(4): 440-450. (EI)
Awards & Prizes

Who's Who in the world,Marquis Who's Who Organization (USA),2010 (Feb)。
國科會整合型計畫「績優計畫獎」,晶片系統國家型科技計畫,2011 (Nov)。
論文佳作獎,台灣癲癇年會,2012 (April)。
年度會議基礎研究論文最佳獎,台灣癲癇年會,2012 (April)。
大專學生研究計畫研究創作獎,國科會,2012 (Sept)。
年度會議基礎研究論文佳獎,台灣癲癇年會,2013 (April)。
Distinguished Technical Paper Award, IEEE International Solid-State Circuits Conference (ISSCC), 2014 (Feb)。
Demonstration Session Certificate of Recognition, IEEE International Solid-State Circuits Conference (ISSCC), 2014 (Feb)。
年度會議論文佳獎,台灣癲癇年會,2014 (April)。
創新研究團隊獎,台灣半導體協會,2014 (May)。
神經學門優良研究成果,科技部生科司,2014 (Oct)。